4014 led strip
4014 led strip-A types of led strip that some time can be low price and also preferred by luxurious lighting projects.

Lot of people do not familiar with the smd 4014 led strip, and it seems not so popular as 2835 led strips. But a professional Optoelectronics engineers will catch its unique characteristics to give it full play on commercial lighting. 4014 smd led with long size and narrow width, so the leds can be horizontal distributed on PCB board. In that case, it can use a minimum amount of leds to achieve the best effect. And for some luxurious lighting projects, leds in vertical distributed on the PCB board, then it become a high density led strips.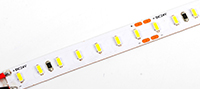 Everluster's led 4014 strip with 126leds/meter 182leds/meter and 192leds/meter constantly current led strip with IC. The power consumption is around 16-22watt/meter with UL certificated.